Did you use a garden hose before? You can frankly share with us the problems those you had had. Tangling, uneven coil after use, crack, tear, and puncture are the most common problems almost every user experiences while using an ordinary hose. Most probably, you also needed to wrap one more punctured area with the plumber's tape.
However, if you use such low-quality hose, your story will be long always even the hose is short enough. Honestly speaking all these are natural and you often face the problems if you can't choose the right one for you. But all these troubles you can easily skip if you just have a good quality heavy duty hose.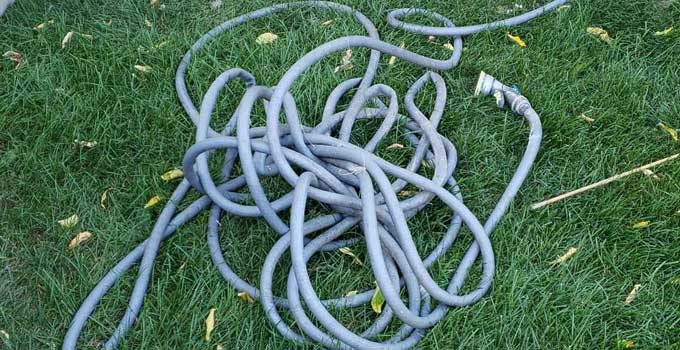 A heavy duty garden hose is free from all the mentioned troubles here. Besides, it gives you better performance and long-lasting results. A garden hose will be giving you trouble-free performance for years after years. But you have to ensure the best heavy duty garden hose is connected to the waterline.
Best Heavy Duty Garden Hose – Lightweight, Expandable, Long Lasting
Different garden hoses are used for different purposes. And you also have to find out the right hose according to your needs. Hopefully, you can easily get the one here that you are searching for your needs.
Flexzilla 100 ft Heavy Duty Garden Hose – Editor Choice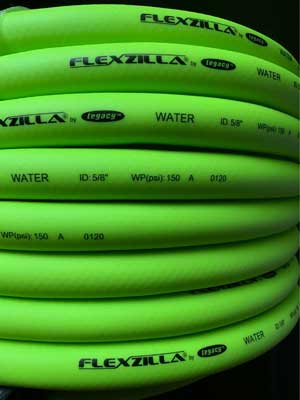 Our first pick is the Flexzilla 100 ft heavy duty garden hose. It is not expandable and this feature is not necessary also as it is already 100 ft. But the hose is extremely flexible which makes it easy maneuver around the tough and confined areas for example around trees, obstacles, and bushes.
Material:
The hybrid polymer is used to construct the hose and it has an abrasion-resistant cover. These make the hose extremely durable and offer long-lasting performance.
Fittings:
Anodized aircraft aluminum fittings are connected with both ends of the hose which are crush-resistant also. Besides, it also offers easy to carry anywhere as it is lighter than the other hoses on the market.
Long-Lasting:
Most importantly, it gives the guaranty to use long time without having any leak and a superior O-ring seal ensures that. At the same time, it lays flat even after stored for a long time in a coiled manner as doesn't keep any memory.
Other Features:
Because of having no lead, it is also drinking water safe. Don't you like this 100 ft heavy duty water hose which is long enough, lightweight, leak-free, extremely flexible, durable, and drinking water also?
---
Giraffe Lightweight Heavy Duty Garden Hose – Best Value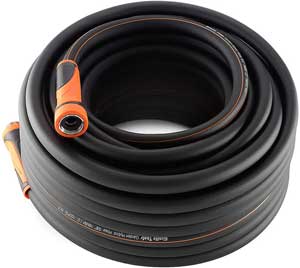 Do you need a hose having the characteristics of high burst strength, connection strength, kink, leak, and abrasion resistance? The Giraffe lightweight heavy duty garden hose can help you. It has been tested to confirm all those.
Performance:
It has some signs of durability and can get you better performance than your expectation. The crush-resistant anodized brass planted aluminum fittings, and the abrasion-resistant outer cover are the signs of durability. And do you know it is dirt resistant?
Pressure:
It can resist water pressure maximum of 150 psi. Its ideal uses will be ensured if it is used for residential purposes. Don't need to think about the weather, it works fine even up to 150 degrees F temperature.
Sizes:
Now tell us, how long do you need it? It has the largest 100 ft size. On the other hand, small sizes are also available. Its smallest size is 2.5 ft only. Excluding these two, it also has the other 3 sizes in between.
---
Bionic Steel Heavy Duty Stainless Steel Garden Hose- Long Lasting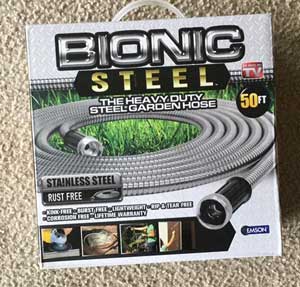 The ultra-durable, heavy-duty stainless steel hose has come for the people who need really an exceptionally durable and high performing hose. The 304 stainless steel is the construction material which is rust, leak, and puncture-resistant. So, no matter where you use the hose even the area has tough obstacles.
Material:
You may think, as it is stainless steel hose it might be heavily weighted and movement restricted. But it is just opposite to your thinking. It is very light in weight and extremely flexible than you think. So, maneuver the hose easily around everywhere.
Long-Lasting:
Most gardeners think about the weather as the extreme weather can lead the hose to be damaged quickly. But this bionic steel heavy duty stainless steel garden hose can be left on ice falling and hot sunny areas. It is all-weather suitable.
Heavy Duty:
It does its duty fine even on high water pressure. That is why you can use it anywhere you need. For residential or other use, it is really a good option for any gardeners or other people.
Size:
If you want to get it, the size will not be the problem as it is available from 25 ft to 100 ft and has other 4 sizes in between the mentioned sizes.
---
GrowGreen Heavy Duty Expandable Garden Hose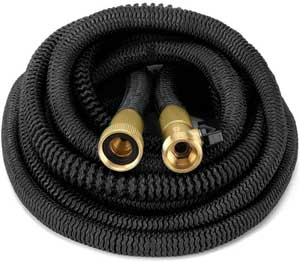 Do you know why do people search for the expandable hose often? They offer some benefits over the other types and they are also good for the following characteristics.
Expandable:
It is 3 times expandable. The original size of the 50 ft hose is around 16 ft. That means it is 3 times smaller than the expanded size. When the water enters it, it expands automatically. On the contrary, it also backs to its original size just after water pressure has fallen.
Easy to Use:
Definitely, you don't want to block a lot of spaces to store your hose. And you also don't see the hose is hanging around the garden. That is why most people prefer to get an expandable option as they require the minimum space to store. At the same time, this heavy duty expandable garden hose is also easy to handle because of its small size. Don't think it has only one size. It has various sizes as the manufacturer understands it so well that the needs of different people are not the same.
Switch:
The on/off switch on the male fitting gives you added control and the fittings are crush resistant. If you expect good performance, you also need to take care of that. Don't store the hose carelessly as it comes with a storage sack.
---
INNAV8 50 ft Heavy Duty Garden Hose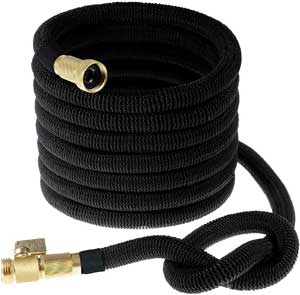 Another example of better quality expandable water hose is this. Its uses are not only bounded to the garden, it can be used for other purposes such as car washing, used in home or yard, or other purposes.
Expandable:
Its original size is 3 times smaller than the expanded size 50 feet. It is about 17 feet in its original size. If the water gives later pressure of about 40-90 psi, the hose expands fully. On the other hand, it also contracts when the water is out. That means, expand and contact mechanisms are the automatic processes. It's not a matter that you've to think about.
Material:
The hose is made entirely with the premium materials to last longer. Especially the fittings are made of solid brass that is leak and puncture resistant. If an expandable hose is your choice, don't think about its quality. It is up to the mark in terms of quality.
Lightweight:
It is super lightweight and extremely flexible. This feature lightweight makes the hose easy to handle and carry. Meanwhile, the flexibility makes it suitable to use under any condition. Is the size perfect for you? If so, you can get this 50 ft heavy duty garden hose with keeping the eyes off.
Reasonable Price:
You can ask the difference between the former and this one. There is nothing significant difference in quality and performance but the price is. It is much affordable than the former.
---
Briggs and Stratton 8BS100 Garden Hose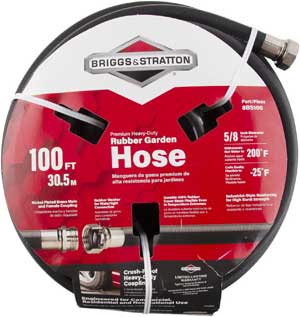 All-weather resistant rubber hoses are the primary choice of many gardeners. But if you can't pick the quality product, you won't use it conveniently and it will damage quickly. But it is exceptional and the following features make it ideal to choose.
Performance:
Let's talk about the couplings which are the major problematic area of the hose. If the couplings are low quality, it will leak water and the hose becomes useless ultimately. But the couplings are made of nickel-plated brass which is crush-poof and leak-proof. Ultimately, you get longer and heavy duty performance from it.
Material:
The outermost layer is made of 100% rubber which protects the entire hose from the extreme weather. Not done yet, the hose also remains flexible in those temperatures. And you don't have to fight to lay the hose flat on the ground even it was stored for a long time in coiled condition.
Sizes:
Some rubber washers are also given to ensure a watertight connection. This feature is included for the added safety of the connection between the hose with water source and sprayer. 100 ft is our recommended size of this heavy duty rubber garden hose. But if you need small sizes, there are three sizes available.
---
Teknor Apex Heavy Duty Garden Hose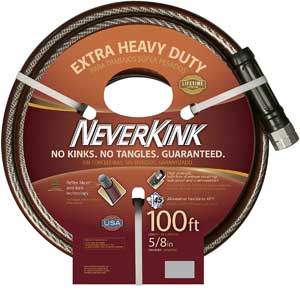 Kinking, twisting, and tangling are the number one customer's complaint against most garden hose. The manufacturer Teknor Apex has made this garden hose to prevent those problems and making it convenient to use.
All-Weather:
You don't know when is the weather going to change? And you often need to use the hose in extreme weather. But if you don't have such a hose that is not weather resistant, what will you do then? Most probably, you've fallen in deep thinking. Don't worry, it is all-weather flexible.
Flexible:
Everybody expects extremely flexible hose but these are not widely available in superior quality but it is. It is ultra-flexible down to 45 degrees and it offers to maneuver easily around any condition.
Kink-Free:
It is patented a mesh network for reinforcement which prevents the chance of kink, twist, and tangle get started on the hose. Besides, it also contains MicroShield which protects the hose from microbial damage. It has nothing which inhibits you from buying it. Just ensure its available sizes match with your needs.
---
WGCC Garden Hose Expandable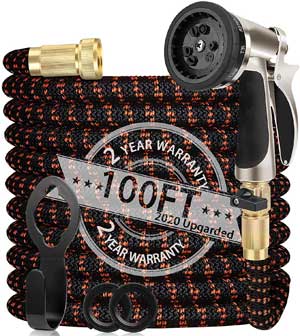 It is not only a hose itself, it comes with a complete package of a watering device. We are sure you will like the hose because of its quality, performance, and other additional features. Let's discuss all it.
Heavy-Duty:
It has 4 layers latex core this makes the hose thicker and stronger than ever. On the other side, the brass couplings are leak and rust-resistant which also ensure long term performance. After all, you get such a hose that you can use years of years.
Material:
It is covered by the durable 3750D fabric which is super flexible as well as lasts longer. And it makes the hose comfortable to touch and hold with comfort. Not done yet, it also enhances the outlook of the hose.
Expandable:
Its expandable characteristic is almost the same as the other expandable items on this list. You can see that the size is 100 ft recommended here and the item is upgraded in 2020. That means, if the previous version had any trouble, all the problems had been solved here. The upgraded version is also available for 50 ft.
---
Titan 15FT Heavy Duty Garden Hose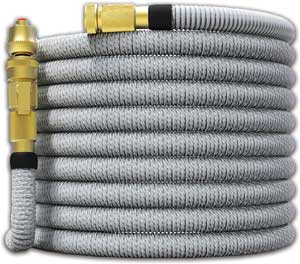 Now we are going to represent you such a hose that has everything good and can fulfill your needs. At the same time, the price tag is also not so healthy. Let's go to the detailed discussion.
Expandable:
The item is expandable which has a dual latex core inside. The dual latex layer helps to give strength to it. Besides the outermost layer has a fabric cover that is very durable and adds extra strength. All after that, the hose remains ultra-flexible than you can imagine.
Lightweight :
is an excellent characteristic of this hose. The smallest size 15 ft heavy duty garden hose is definitely lightweight. You may think, as the size small it naturally weighs lightweight. But the largest size 150 ft heavy duty garden hose is also lightweight compared to the others. There are other 4 sizes available in between these two.
The heavy duty:
Brass fittings will never rust and leak. To be honest, the manufacturer has made the hose to make the users completely satisfied. And the users also agree with the matter. Thanks, Titan for making such a garden hose.
---
J&B XpandaHose 75ft Heavy Duty Water Hose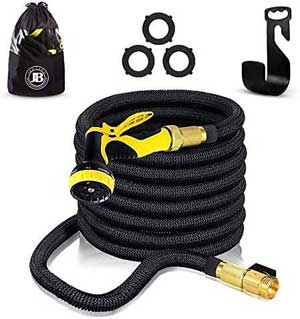 Do you expect something more with a heavy duty water hose? Don't worry the item is almost in your hand now. It doesn't supply a hose only many other necessary accessories come with the package. Keep reading all you will know step by step.
Quality:
The item has a triple layer latex core inside. The layers make the hose thicker and stringer at the same time. And we are sure everybody expects good quality and stronger hose.
Most Features:
It offers multiple benefits to the users including lightweight, compact size, kink, and tangle-free. If you summarize all these features it tells you can handle and carry the hose much easier. At the same time, it also gives you the guaranty of trouble-free use for a long long time.
Nozzle:
10 setting nozzle comes with the hose. And the nozzle helps to deliver water in a different pattern according to different needs. Also, there are many other things that come along with this 75 ft heavy duty water hose including a holder, and storage bag. Happy?
---
Things to Consider Before Buying The Heavy Duty Garden Hose
The requirements from the garden hose vary users to users. And we all consider only those factors which are most important to us. But, some common things you should review irrespective types and uses of the hose. These are discussed below.
Length
It is the first thing you should review. Only you know how long hose you need. And it might not match with the other. For example, if you water the whole garden, a 100 ft garden hose is a suitable option. You may also need the longer one. It depends on the total area of the garden. For a small patio, pick the 25 ft long hose and for the yard, 50 ft is enough most of the time. It is just nothing but an example. Always choose the length according to your needs.
Material
Different materials are used to construct a garden hose. The vinyl hose is always the top choice of the users who have a tight budget. It is also good if you can save from the extreme weather.
Rubber is comparatively a better option than vinyl. The rubber hoses are kink-free and resistant to degrading and cracking. They also last longer. The only downside of this hose is it is heavy. If you can manage its weight, it is an excellent option for you.
And another type of garden hose is available in the market which is called the expandable garden hose. It usually contains one more latex layer inside and the outside is covered with the polyester material. They are an excellent option but this type of hose requires a bit more money. Just get it if you can afford the price.
Strength
Strength in the case of a garden hose means how much pressure the hose can withstand. The pressure is expressed in PSI. It ensures the hose can afford much water pressure and it remains well even on high water pressure. An ideal water hose should have PSI over 350.
Flexibility
At this point, you have to ensure the hose doesn't kink. You see the kink-free tag almost in all water hoses. But they can be kinked if they are twisted enough. That is why you are recommended to choose either rubber or reinforced hose. They are really kink-free.
Connectors
The connector is the end part of a garden hose. It connects two parts; the water source and the hose nozzle. If the connectors are not made good quality, the water may come out from the junction. And the couplings become useless eventually. So, always ensure the couplings are not plastic made. Rather, always ensure the metal connectors. They are made of solid brass. You may also get aircraft aluminum made connectors. These are also well.
---
The End Line
The cheapest price tag always indicates the lowest quality. But the high price does not always indicate higher quality and the product is right for you. We advise you to select the garden hose after consideration of its all-important features and then match with your needs. And this is guided in the buyer's guide section. Hopefully, you can get the best heavy duty garden hose with taking the help of this guide.