From water in the garden and lawn to car washing, there's hardly any watering job where the garden hose will fail to supply water readily. However, you may have to turn on and off the garden hose multiple times when you work outdoors. Thus, going back and forth to the main water spigot can be both tiring and time-consuming. You can easily do away with the problem using a shut off valve.
Here, you will quickly find the seven best garden hose shut off valve reviews thanks to our intense research and useful conversations with consumers. We are aware that you can find a shut off valve that will fit comfortably with the hose diameter.
But that's not all; you would want more. For instance, outdoor water shut off valve needs to be leak-proof, made of high-quality material, and offer ergonomics for convenient use. Our seven picks for the outdoor hose spigot successfully withstand in these categories.
Plus, the buying guide will help you quickly figure out which shut off valve to select and which to leave for your job.
So, let's jump into it.
The 7 Best Garden Hose Shut Off Valve
Shut off valves can be of different categories and distinctive features. Also, it should ensure a waterproof facility to prevent leakage in outdoor space. The following list of garden hose auto-shutoff valves will precisely meet these requirements.
2wayz Garden Hose Shut Off Valve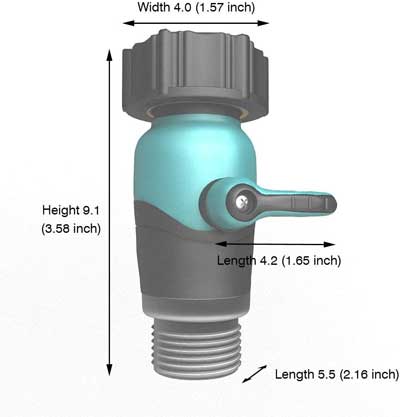 The first on our list is a 2wayz shut off valve that is the height of convenience, durability, and ease of use. The valve has hardly any drawbacks and will elevate your gardening experience to the next level. The valve is made of solid material with a ¾" diameter. So, it will fit the standard American garden hose quite superbly.
Plus, it has a TPR rubber coating to prevent rust, corrosion, and leaks. It adds both convenience and durability. On top of it, its 4cm long 180-degree rotatory knob will make the hose spigot turning on and off easier than you might imagine.
You can use it to keep the hose dry while you change the sprinkler, or you can connect two garden hoses with it. Also, it is 100% waterproof, which means you can even prevent leaky stem faucets with it. It will therefore add versatility to your gardening inventory.
Its design is pretty ergonomic. The longer knob allows easy adjustment without any wrench. Plus, it is going to last for several seasons, which is a money-saver deal.
Highlighted Features:
Easy and quick installation with screws only
A longer lever makes its operation comfortable
100% waterproof TPR rubber coating stops leakage
It supports the 180-degree movement for better use
Durable design with smooth and versatile applications
---
M MINGLE Heavy Duty Brass Garden Hose Shut Off Valve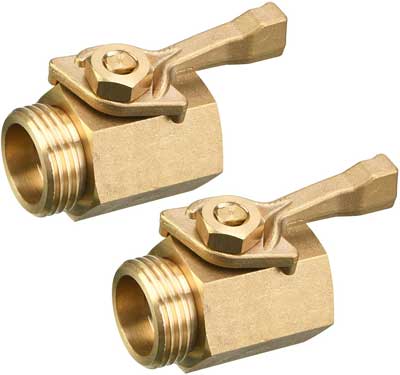 If you are looking for a heavy-duty brass garden hose shut off valve, the M Mingle valve is ready to serve your causes perfectly. It has a ¾" diameter to deliver the right amount of water for gardening, car-washing, and other applications.
The shut off valve is made of heavy-duty and solid brass. So, it is not likely to get damaged soon. It is rust and corrosion-proof with UV stabilization. So, you can expect the valve to last a few years of abusive use quite confidently.
The valve features a 4-cm long brass handle. It makes shutting on and off the valve easy. Plus, you can control the water flow easily, thanks to the ergonomic lever handle. You won't have to use any wrench for it separately. However, it is a bit tight, and so you may need to apply mild pressure to adjust the knob. But that's okay given that you will be happy with the exercise.
Each solid brass shut off valve equips a rubber garden hose washer too. It offers 100% waterproof application. And inside the package, you will get two shut off valves and two washers. Doesn't it seem a winning deal?
Highlighted Features:
Solid brass construction ensures maximum longevity
The complementary washer provides waterproof service
Easily adjustable handle lever for water flow control
Heavy-duty design for use in large and industrial space
Comfortable and secure fitting with the screws
---
Twinkle Star Heavy Duty Brass Shut Off Valve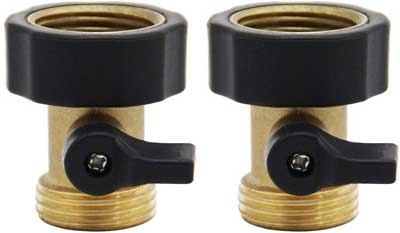 This pair of Twinkle Star shut off valves is as versatile as you may imagine. From adjusting water flow to connect two garden hoses and stopping leakage, this shut off valve can accomplish every job you put to it.
Twinkle has used heavy-duty brass to construct the garden hose valve. It has zinc plating to endure rust and corrosion for several years. So, the valve will enjoy excellent longevity even in years of outdoor applications. Plus, molded rubber cover right the valve head ensures leak-proof uses. So, even if the garden hose gets damaged, water won't leak through the valve.
Its lever handle is made with premium rubber material. It is longer and easy to move to adjust the water flow. You can do it without any pressure, and its swiveling is smooth too. You will find it fun to swivel the lever. Also, rubber construction means it won't catch rust and is less likely to get jammed due to snows in the winter season.
It accommodates a standard ¾" garden hose and has adequate water flowing capacity too. So, it won't disappoint you; by no means.
Highlighted Features:
The plastic handle has good grip and an easy swiveling facility
Strong solid brass design is usable in all-weather at ease
Quick and easy assembly on any ¾" standard garden hose
The plated brass is rust and leak-proof for convenient use
You will get 3 years of warranty for this meat shut off valve
---
Twinkle Star TWIS3003 Brass Shut Off Valve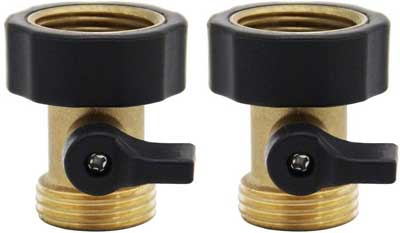 TWIS3003 is another Twinkle Star shut off valve that we couldn't but include in the list mostly because of its premium construction and quality service. You will get two shut off valves and washers inside the package.
The garden hose inline shut off valve is made of solid brass. So, it is free of rust and damages, unlike the standard valves. Plus, the two washers ensure a 100% waterproof connection between hose and spigots. Also, its installation is super-easy and will only need a screwdriver.
It has swivel connectors. It will assist you in attaching the valve to the water faucet. So, the installation experience of the shut off valve is straightforward. On top of it, the valve features a brass lever too. You can comfortably adjust the water flow with this ergonomic lever. Just move it 45-degree to close or open the faucet and let water flow.
Its versatile use will also come in handy. You can use it with a standard ¾" hose, faucets, boats, RVs, and where not! Isn't it incredible?
Highlighted Features:
Strong and heavy-duty construction for durability
Rubber washers ensure 100% leak-proof usability
Versatile use in the water hoses, RVs, boats, faucets, etc.
Ergonomic valve lever makes water flow control easy
Affordable pricing is highly suitable for homeowners
---
Hourleey Brass Garden Hose Shut Off Valve
The Hourleeey shut off valve package contains two valves and four washers. So, you can use both of them on two various applications or replace one with another if need be. Thus, you won't have to find a replacement valve, and it is a real money-saving deal.
The water hose shut off valve is made using solid brass. It is leak, rust, and corrosion-proof. And this is pretty essential since you will use the valve outdoors and in all weather conditions. Plus, its included washers have premium rubber construction. It permits a waterproof connection between the water faucet and the hose for safety.
It is compatible with a ¾" hose. You can, therefore, use it with a garden, RV, boat, and other kinds of hose confidently. Also, the installation of the shut off valve with any hose is as easy as it gets. And once you connect the valve and hose, you can use its ergonomic handle to control the water flow easily. The lever is long and large enough for comfy use.
Hence, the overall performance of this shut off valve is top-notch. You can attach it and be sure for a leak-proof hose for years after years.
Highlighted Features:
You get four washers and two valves at reasonable pricing
Heavy-duty brass design for all-weather applications
Excellent versatility with use in a garden hose, RVs, and boats
Easy and secure fitting with the leak-proof rubber washers
The handle lever is large and ergonomic for comfy controls
---
Cosweet Plastic Garden Hose Shut Off Valve
Once you buy the plastic shut off valve from Cosweet, you won't probably need any valves in years to come. Yes, the package contains 12 pieces of shut off valves. So, homeowners can use one after another of the valves for several seasons. Also, it allows application in commercial and industrial space where multiple garden hose is in operation.
Likewise other previous recommendations, this valve also has a ¾" diameter. It should be enough for your required water flow to accomplish different jobs. It is easy to install with garden hose thread, RVs, boats, kayaks, and other watering faucets with ease. So, you will also appreciate its overall versatility in real life.
It is made of premium ABS plastic. So, there's no chance of catching rust and corrosion with it. Also, it offers a leak-proof service. We recommend you use a good-quality rubber washer with it to increase the hose safety more. Also, don't tighten its screw too tightly. It will help the ball valve to offer better durability.
Highlighted Features:
An affordable package with 12 quality shut off valves
The valve has a pretty lightweight yet sturdy connection
The valve has a standard ¾" inner diameter for water flow
You can use it in different applications without any issues
Ergonomic design with swiveling lever handle for control
---
Dramm Heavy-Duty Brass Shut-Off Valve
Dramm is a popular name in the gardening industry mainly because of its high-quality garden hose. This time they bring a shut off valve for garden enthusiasts that will stop unwanted hose leakage forever. It features heavy-duty brass construction.
Therefore, rust and corrosion will stay miles away from it. Plus, its heavy-duty construction makes it an ideal choice for commercial use with abusive applications. Also, you can control the water flow with fingertip precision, thanks to the brilliant design of the outdoor water shut off valve. Plus, the valve successfully withstands high pressure to increase its durability.
You will get a long and ergonomic handle. It features a quarter-turn for easy water flow adjustment. Lastly, the lever is ergonomic and designed in a way so that even people with arthritis and wet hand can easily turn it. So, it will have no failure to control the water flow from the main fixture. You will love how it transforms your watering experience into a brisk one.
Highlighted Features:
You can get the shut off valve in single and double packaging
Its heavy-duty brass design is rust, leak, and corrosion-proof
The valve can withstand more pressure than regular valves
Ergonomic lever design for people with arthritis and wet hand
Ideal for commercial, industrial, and residential applications
---
How to Buy Garden Hose Shut Off Valve
When you want to get an outdoor water hose shut off valve, you can't pick one blindfolded. It would be best if you considered a few things closely.
Types of shut off valves:
Depending on your purpose, you may get three types of shut off valves. The list includes-
Straight valves: The straight valves offer better water flow control and keep the hose in good shape. Plus, it is easy to install with a spigot or connect two water hoses. You will see its most use in a garden hose.
Y-shaped valves: These are known as splitters and allow connecting multiple hoses with one spigot easily. Hence, it is an ideal option to sprinkle in large gardens and lawns. You will see its uses in large parks, golf courses, and residential spaces. But it lacks water flow controlling capacity, which is its drawback.
45-degree valve: It is the best option for stable water to flow with pinpoint accuracy. It ensures great fitting and prevents garden hose kinking. It is also easy to use and offers versatility.
Purpose:
Next, determine your purpose of using the shut off valves and buying the right type to meet your necessity. You will see various shut off valves for different use. Some are usable with bathroom or kitchen hoses. You have to pick that is compatible with a garden hose.
Also, if you want to work with multiple hoses simultaneously, choose the Y-shaped valves or splitter.
Design and location of the waterline:
The construction of your main water supply line and spigot will determine which shut off valve you should choose. For instance, ABS plastic valves are suitable with plastic spigots. Brass-threaded valves need to be installed with a galvanized spigot or water line.
Finally, for PEX, CPVC, and copper-made waterlines, you may use PEX shut off valves. Also, the location of the waterline has its role to play in the overall selection. If the stopper comes from a wall, you may use an angle stop shut off valve for it.
And for floor-based water lines, you should choose straight shut off valves. So, be aware of it.
Durability and easy usability:
The garden hose water shut off valves are made using solid brass or premium ABS plastic. So, you won't have to worry about their durability so much. However, look at the handle lever design. It should be easy to use with hassle-free movement. A longer handle will be easier to use.
Frequently Asked Questions
Q: Why should I use a shut off valve?
A: It allows you to control the water flow with pinpoint accuracy. Also, it stops accidental water leakage and frees you from the hassle of going to the main spigot every time you need to turn off the water flow in the garden.
Q: How long the water hose shut off valve will last?
A: These shut off valves are made of solid materials with rust and UV-proof design. You can use them all-weather for several seasons. Plus, its maintenance is easy. So, you can expect the valves to last for 3-7 years easily.
Q: I have an arthritic hand. Can I use the shut off valve's handle lever?
A: Yes, you can use the lever to control the water flow. The handles are ergonomic and easy to quarter-turn for comfortable use for all.
Final Words
Homeowners and gardeners often face problems with water control and leakage with their garden hoses. This recommendation on the seven best garden hose shut off valves will eliminate these problems once and for all.
However, we suggest you maintain and clean the valve regularly. Sometimes debris can get into it, which can reduce its lifespan. So, cleaning is a must for the valves. Also, during cold days you should store them inside; likewise, you do with the garden hose. All these will ensure a premium and satisfactory performance.